MACUL 2014 Reflection
The trek through the blizzard was worth every session
What an amazing three days we had at #MACUL14! We made lots of connections and had reflective conversations with some of Michigan's most innovative and brilliant educators. We were able to meet so many different people and catch up with others in all the great sessions and meet-ups we attended. To be honest, it was a blast.
Today, we thought we would just post here about some of the sessions we were able to attend that really knocked our socks off.
Not really. That would be gross.
We wish we could have gone to even more sessions, but that is where you come in. If you went to a session that really stood out, we would love to hear your thoughts in the comments below.
But please, let's keep our socks and shoes on.
Jeff's Reflection
From the Beaches of Normandy to a Michigan Classroom: Teaching and Learning in the Real and Online World
Scott Durham & Margaret Lincoln
After Adam Bellow's (@adambellow) keynote I trucked it from the Devos Place Grand Galleries, across the skyway, and into the Amway Grand Plaza's Robinson room. Robinson holds about 20 people and by the time I got there it was already jam packed. What drew me to Scott and Margaret's presentation was the enormous scope of their project. I'll do my best to briefly sum it up here.
Scott is a Social Studies teacher from Lakeview High School in Battle Creek. He was blessed with the opportunity, via the DeMaso International Study Fellowship, to journey abroad and use the experiences to enhance his teaching practice. Through a blended approach, he was able to travel and teach his "World at War" course while physically visiting sites significant to the historical content of his course. Perhaps the most personalizing feature of instruction was Scott's use of Google Hangouts to facilitate synchronous discussions with his students as they sat in his classroom back in Michigan. Below is an example of these interactions.
At its core, blended learning is about using the best environment for what you are trying to accomplish in the classroom. Scott saw a unique opportunity to bring his students with him virtually. While it's important that we recognize the essential role that technology played in achieving this, the real power is in Scott's vision as a teacher and the way he makes history come alive for his students. Google Hangouts didn't take those kids to Germany, Scott did. We need to remember the irreplaceability of the teacher in this process.
I heavily recommend checking out the blog that Scott kept while traveling, it's quite impressive how introspective he is as he connected his content knowledge to the physical environments he explored.
---
Flip, Blend, and Remix: Using Technology in the Classroom to Ignite Student Learning
Janine Campbell
In the midst of an after-lunch-slump, Janine Campbell (@campbellartsoup) shook me back to life. This Visual Arts teacher from Byron Center Public Schools started the session off with a bang by having us all get up and dance!
This was my first time meeting Janine in person, yet I had a lot of anticipation for her session because her digital presence serves as a really great window to her practice. She is an outstanding follow on twitter. Not just because she has great original ideas, but because her retweets are excellent curations as well. Make sure to follow her!
@campbellartsoup showing off her art vocabulary line dance, to the packed room. #macul14pic.twitter.com/5RZYGTLpXX

— Molly Marshall (@MollyAMarshall) March 13, 2014
Janine published her own reflection which encapsulates her entire MACUL experience as a presenter and participant. So let me just focus on the thoughts that stirred in my own cranium while I watched. Janine would be an amazing teacher in any era. Here passion, energy and love of her craft make her the prototype. However, she has aptly demonstrated what it means to use blended learning to its fullest in today's classroom.
I loved when she talked about the different tools she is using in her classes; always following their mention with potential alternatives. Specifically, I remember her discussing that her district has recently changed their LMS platform. I don't remember which one she's using now or the platform the district has moved to, but I clearly remember her stating that she will most likely make the switch. I assume, like everything else she does, it's to improve the accessibility for the kids. One LMS containing all six courses is a lot easier for students than unique course management platforms provided by every teacher. Yet as a teacher, change is hard, so I applaud her willingness despite the "shifting pains" she's likely to encounter. Use the tools, don't let the tools use you.
MT @MACULfun: "@jscholma: Great image that sums up how tech is misused & used well. #macul14#thinkblendedpic.twitter.com/H4KkftXEbp"

— Dave Goodrich (@Rangerdavie) March 16, 2014
Through it all, I think the thing that struck me most was Janine's ability to extend her teaching beyond her classroom walls. This is different from simply digitizing content. Janine leverages the online environment to allow students control over the place, pace and scope of their learning. When students are able to customize their learning in this way the engagement is intrinsic. To see the results that this this kind of student empowerment, look no further than what happened while Janine was away presenting at MACUL!
Online tools have the capacity to eliminate walls, defy absenteeism, continue business on snow days and keep the classroom open 24-7. They don't, however, have the ability to magically create this environment by themselves. Blended learning isn't teacher replacement it's teacher enhancement.
Really enjoy how @campbellartsoup uses online tools to extend humanity rather than replace it. #thinkblended

— Jeff Gerlach (@JGer1) March 13, 2014
Dave's Reflection
Wednesday morning of MACUL 2014 was wacky. I suppose I should be used to the weather by now being a Michigan native, but this winter has just been insane in the membrane. We all arrived to the Lansing office late in the morning due to the awful roads and I was glad we decided to all ride together in one car. Here we are before leaving Lansing. I am pretty sure I took this picture in case we all died on the way.
Needless to say, I was relieved when we were finally in Grand Rapids where the weather was much better than it was further eastward. When we arrived, we checked in and then hit up the first ever Instructional Technologists Rally where we met some great people. It was hosted by the EdTech folks over at the Jackson County Intermediate School District who totally rocked it, as usual.
Afterwards, we hit up the TechSmith reception at the B.O.B. which was simply delightful. We enjoyed running into friends from MAET and catching up over some good food and drink. Unfortunately, the Issues & Ale event at Founders put on by Michigan Radio on the topic of closing the digital divide was too overcrowded to attend, but I was really glad the conversation was archived.
---
The Goods and Bads of Flipped Instruction
Tara Maynard & Caitlin Grubb
I was immediately drawn to this session just because of the title. It is often difficult to hear people raving about flipping instruction without also discussing the challenges that it inevitably brings to do it well.
Don't get me wrong, I am not a technophobe. I have given my life to this stuff of instructional design.
It is just nice to hear honest reflection in the midst of all the noise. Tara Maynard (@tmaynard5) & Caitlin Grubb (@grubbcaitlin) did an incredible job hosting this very engaging session while providing context to their own classroom practice at Creekside Middle School in Zeeland, Michigan.
The good of flipping
Some of the benefits that they highlighted from their experience in their middle school math classroom were similar to ones we have found in our own practice and research. For instance, Tara's conversations with individual students has increased overall both in the amount and the times of day that they occur since she has been flipping her classroom. She reflected on how this has helped her to get to know her students better.
Flipping has also helped her students to be more focused on their learning with the individualized and personalized attention they are now receiving. Because much of the direct instruction has been offset to the time previously designated for homework, there has been more time in class for problem-based learning explorations, active learning strategies, hands-on demonstrations in labs and deeper discussion. This has resulted in better communication and interactions between the students themselves and the teacher-student relationship also.
Further still, her students have been more free to work at their own pace so that the accelerated learners can move to deeper connections and remedial work can allow for rich multi-model demonstrations and feedback.
What really stood out to me most was Tara's continual mention of how students have a better read on what they know as it relates to the material and that this allows them to ask better questions.
Love @mnaynard5 focus on what student knows or doesn't vs. grades. #thinkblended Reminds me of @jger1 post http://t.co/lSm3O78pA3#macul14

— Dave Goodrich (@Rangerdavie) March 13, 2014
Isn't this what we all want for students? This was her rationale for encouraging teachers present to consider taking steps toward flipping also, but I was glad that she also made mention of the things to be aware of when doing so...
The bad about flipping
Time. I know that I am always feeling like I need more of it and I am not even teaching in the classroom anymore. Needless to say, teachers don't have a lot of it to spare. This is something to be aware of when considering the flipped classroom model because of the time-intensive nature of creating out-of-class videos as well as preparing in class projects and activities. Doing this well isn't for the faint of heart, but the payoffs can be rewarding for students and teachers alike.
Tara also cautioned about how students can move at their own pace which can be a problem if you are not prepared for that. She wanted to stress that flipped instruction should not be thought of simply in terms of videos and worksheets because there is much more to it than that when it's done in a meaningful way. Lastly, she talked about how easy it is to make videos that are ineffective by only capturing unengaging lectures that are not succinct enough for what the medium calls for.
My favorite bit of advice she shared along these lines was something I had to tweet because it was just that good:
"Videos shouldn't be longer than the grade you teach." @tmaynard5 @grubbcaitlin #macul14#thinkblended

— Dave Goodrich (@Rangerdavie) March 13, 2014
Take heed and plan accordingly. You will thank her later. Trust me.
After these general words of wisdom, I was elated that Tara and Caitlin went into good detail about what their classroom actually looks like and what kinds of active learning strategies they were using for both in class and out of class student work. I hope to do a special highlighted interview of Tara and Caitlin in the weeks ahead so that MyBlend can put the spotlight on their practice for other teachers across our great state who were not fortunate enough to attend this session.
More to come on this later…
For a sneak peak, check out these videos on "A Typical Flipclass Day" and "Student Voices" that they referenced in our time together.
You can view the slides of this presentation here if you wish. Good stuff.
---
Indispensable Instructional Technology Strategies
Andrew Taylor
When I got to this session I was estatic to find an outlet to charge my MacBook Air and iPhone. I was bummed that Andrew Steinman (@steinman) and Gary Abud (@MR_ABUD) were not there, but Gary had a good excuse:
Hey @TechNinjaTodd! I didn't make it to #MACUL14 this year. A little girl blessed my life earlier than expected: pic.twitter.com/l47DyB3Egu

— Gary G. Abud, Jr. (@MR_ABUD) March 14, 2014
Congrats, Gary!
So, Andrew Taylor (@galileo0624) did a good job in Andrew and Gary's absence talking about some emerging technologies he uses as a teacher at Grosse Pointe Public Schools. The cool thing is that he has all the tools he referenced in the session available for all to explore and evaluate here: http://www.thedigitalcore.org/
I really like how he organized these tools around the pedagogical reason for using them such as, cooperative learning, summarizing & note taking, comparing-contrasting, visual literacy & nonlinguistic representations, and immediate feedback & dynamic instruction. I was personally intrigued by a tool called ThingLink which allows you to make images very interactive. I also was interested in exploring more of the features within Dipity for finding, creating and embedding interactive timelines.
Thanks, Andrew Taylor!
---
Google Hangouts: Connecting Your Classroom to the World
Paul Murray
Paul Murray (@Paul_Murray6) put on a brilliant session about Google Hangouts being used at Portage Public Schools.
As hinted at in the title, he was promoting the use of Hangouts for the purpose of connecting classroom students and instructors to surrounding community without requiring the costly and time-intensive measures of a full-fledged field trip. Paul was careful to express that they weren't recommending that anyone do away with field trips, but to use Hangouts as another option for more connections to be made beyond them. I like that.
In fact, I liked the whole session. I liked his shout outs and the connections he made to other sessions he had been to including one by Kim Powell (@powell4thgrade), Andrew Vanden Heuvel (@avheuv) and the keynote by George Couros (@gcouros) that most of us had just come from. Besides the fact that Paul was a fun and engaging presenter, I thought it was super cool that he facilitated a live Google Hangout with those of us in our session with a teacher and her students back at Central Elementary School. Not only was it great to get a chance to see how the Hangout would work in a classroom with a direct experience for us all in attendance, but it also happened to be the very elementary school I attended in 4th grade when I lived in Portage. That was neat.
Paul did an outstanding job fielding all our questions regarding features, policies and contextual inquiries that came in during the entire time he was presenting which earned him kudos from my perspective. Good job, Paul. Sorry for all the questions I threw at you. Hopefully, they were a sign of my deep engagement with what you are doing.
One of my favorite uses of Hangouts that he referenced was how they have been recently connecting with Barbara Agens from Binder Park Zoo to connect classrooms to animal specialists during the winter months. This has allowed students to learn more about the animals during a time when they typically wouldn't drive out in a bus to visit an outdoor zoo. This has been engaging for the students and even providing a new revenue stream for the zoo that hadn't been tapped before. In fact, the zoo is having discussions about whether this should be a program opened up to other districts as well. Super cool!
Thanks for leading the charge with Google Hangouts to Paul and all the teachers in Portage Public Schools. I have been waiting to hear about a school or districtwide usage of this amazing platform in Michigan and am so glad I came to your session so that I could learn more about my hometown doing it in innovative and compelling ways. Looking forward to connecting with you more so that we can highlight what you have been doing on the MyBlend blog for other schools and teachers to glean from here in Michigan and around the country.
I will conclude this brief review of Paul's session with a gnarly quote he said at one point during his talk:
The biggest piece of learning is making connections. We learn in community.
Couldn't agree more, Paul. Keep up the great work. Looking forward to connecting more in the near future and shining the spotlight on what you and your teachers are doing for your students.
You can check out the slides Paul used here if you wish.
---
Turn Your School Into a Virtual Learning Laboratory | Pro's, Obstacles, and the Possibilities
Marc Schultz
I'm not going to lie, this was my favorite session of them all.
Why, you might ask? Well, basically because of the way it was facilitated.
If you don't know Marc Schultz (@marcschulzkih) and his team over at the Kent County Intermediate School District, this is something we can remedy. Let's go ahead and touch on that briefly.
So, Marc did a masterful job giving some background into what a learning lab school is, but more importantly, he emphasized the purpose behind why anyone would want to establish a learning lab school in the first place. Similarly to Tara and Caitlin's presentation on the good and the bad of the flipped classroom, I appreciated Marc's eager willingness to help us explore both the benefits as well as the challenges that these kind of schools encounter.
One of my favorite parts of his presentation was the fact that he brought two students from Kent Innovation High to field questions about their experiences from the learner perspective. Emmy (@EmmyRyd2016) and Zach (@HM_Zattack) did a really good job responding to heady questions from the audience and showed themselves to be really thoughtful and smart students who obviously care about their learning experience.
What I appreciated most about this session was how it was run using active learning strategies much like a class is facilitated by expert teachers at Kent Innovation. Marc led us through what he called the "Ideation Activity" where we worked together in groups to brainstorm and discuss ideas using Padlet for how this kind of pedagogy would be both valuable and challenging from the teacher perspective and from the student perspective. We also considered items that stakeholders would need to be informed about. What resulted was a rich and engaging discussion among those in attendance. Our dialog included the thoughtful reflections of practicing teachers out in the field which is why the session was so much better than other sessions where just one person shared the whole time (not that I went to any sessions that did this ...).
I am really excited to connect further with Marc and hopefully hear more from teachers and students from Kent Innovation to learn more about their practices and findings with this new venture. Stay tuned for an interview with them along these lines in the near future. Maybe we could even do a school visit and capture some footage of their learning environments first-hand. That would be cool, says I.
Anyway, for a sneak peak, you can check out some videos that provide context for the environment and experiences of students at Kent Innovation:
You can view the slides Marc used for this session here.
---
Bringing Your Classroom Online
Andrew Vanden Heuvel
The last session I would like to mention briefly that was another home run was led by a rockstar in the world of online and blended learning, Mr. Andrew Vanden Heuvel (@avheuv) himself. Maybe you have seen him in the paper, on the news, on T.V. or at another conference before, but if not, do take the time to learn from him. Not only is he engaging, funny and brilliant, but you will walk away with strategies and tools in your back pocket that will enrich your own instruction. He didn't win the Michigan Online Teacher of the Year award for nothing.
Anyway, I was eager to finally meet Andrew in person for the first time and watch him present for the first time also. I was in no way disappointed. We did group discussions, played a game of family feud on the topic of emerging technologies that teachers currently use, and had a group-wide discussion about social media usage. Andrew also provided a visual demonstration of the importance of immediate feedback on formative assessments. Beyond this, we were provided valuable resources for teachers. We even explored the collaborative nature of a Google Drive document by all contributing to the correction of improperly written sentences. This helped reinforce the value of synchronous and crowd-sourced learning activities.
We are looking forward to highlighting more of the amazing things that Andrew is doing in his physical and virtual classroom environments. Regardless, I am sure you will be seeing him on a national stage or on the Discovery Channel someday soon.
I will leave you with a quick example. Seriously, who does this kind of stuff?
---
MACUL E. Culkin
@MACULfun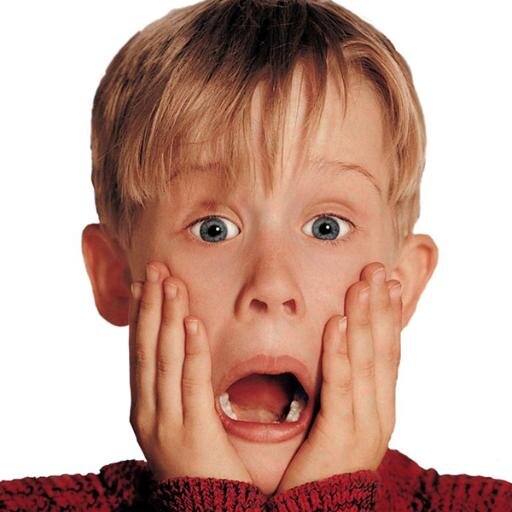 Last, but not least, for those of us at the conference who lived partially in the twitosphere, we were all humorously nourished by the witty reflections of the mysterious and yet to be identified MACUL E. Culkin (@MACULfun). If you haven't followed him yet, you will certainly be glad you did. He even wrote a reflective blog post about his own learning experiences that is worth the read here: Not "Home Alone" at #MACUL14.
You're welcome.
We can't wait to hear more of your reflections on your #MACUL14 experiences! Please feel free to share your reflections in the comments below and carrying on the good conversations we experienced firsthand at the conference. Otherwise, we look forward to seeing you at the next MACUL event right around the corner ...
Do you have any questions that you would want us to ask any or all of these presenters? Please share them with us in the comments and we will try to add them to our interviews. Want to learn more about the new pilot MyBlend program being offered to schools, districts and teachers? Check out our about page. Want to contact us directly? Please do! We would love to hear from you and partner with your blended learning goals.
Remember, you stay classy, @MichiganAwesome.